For online orders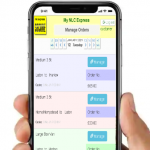 NLC Express WebApp Online Ordering system. A new way for our account-holding clients to place and manage orders.
With our app you have online self-service access to our pricing, ordering and aftersales support. Our server-based app also runs on desktop computers and tablets with no installation required.
To use the webapp is easy. Start from our official website nlcexpress.co.uk click Login to begin (enter credentials*). Logged-in you can look up prices, place and manage orders by using a simple & intuitive menu.
Get price - set date - enter reference number and/or notes - click Place order. After have clicked Place two things happen simultaneously. 1 Sales Office checks availability + allocates resources, 2. you (or colleague with shared access) add more information (such as address details, special instructions etc).
Sales office sets Order Status Active, appears on your Manage Orders screen. When delivery complete status changes to Delivered. If you enabled them, you get alert pings of status changes. At any time open the order & add extra info. After delivery inspect proof of delivery.